Need a New Laboratory Water System?
We have many to choose from. We can save you thousands on
Complete Systems and replacement filters for most brands.
---
The Three Properties Of Water
---
---
Solid, Liquid and Gas


Water is the only substance that naturally occurs on earth in three distinct physical states...solid liquid and gas. Occurring at or below 0oC water becomes a solid crystalline form or phase. In this form it occupies a definite volume.




Over a definite temperature range water exists in its liquid state but this phase has no rigidity nor a particular shape. Water takes on the shape of whatever shape the container happens to have. In addition under pressure water will have a tendency to flow if the pressure is being evenly distributed. Much like its solid phase in this form water occupies a definite volume.




Water in gaseous state neither occupies a definite volume or has rigidity. Unlike the other two phases when in gas form it takes on the exact size and shape of its container.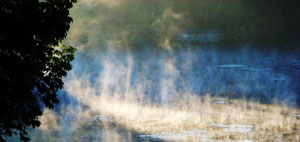 All three phases are dependent on temperature. In atmospheric pressure and 0oC or below water will become frozen solid. When the temperature rises and is between 0oC and 100oC water will melt and enter the liquid phase. If the temperature is above 100oC water will boil and vaporize and enter the gas phase. In atmospheric pressure the three phases occur in succession as the temperature rises from 0oC to 100oC.It should be noted that one phase does not suddenly replace the other in this process. At the melting and boiling point for a brief time water exists in two phases at once. When melting it is solid and liquid and when boiling it is liquid and gas.

Pressure can also affect the transition temperature of the phases of water. For example at pressures below atmospheric pressure water will boil at less than 100oC. As a result vegetables and other foods will take longer to cook at higher elevations. Less heat is required for water to change from liquid to its vapor or gaseous state when in pressures below atmospheric pressure.


---
More Information About Water
Images are representative of the products. Images may or may not be of the actual product. If it is important e-mail us for an actual image if available.

* Flat Rate UPS shipping when able to ship via UPS and is in the USA excluding Hawaii and Alaska.
Larger Items may not be able to ship via UPS, in that case freight charges will be quoted seperately.
International shipping will be quoted after the order is placed. You will have the opportunity to cancel before we finalize your order.

Terms and conditions
Credit Application
Privacy Policy
Google Apps
List All Products