AHLSTROM BRAND LABORATORY FILTERS
Catalog Home / High_Quality_Laboratory_Filters / Ahlstrom_Brand_Laboratory_Filters
---
List 3 sub categories in this group &nbspList all 11 products in this group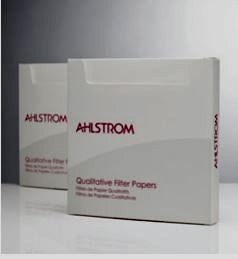 High purity cellulose extraction thimbles as sample reservoirs for Soxhlet extractions. Walls are approximately 1.5 mm thick and have been found to perform satisfactorily in applications requiring either a single or double wall thickness.

Glass thimbles are used to sample dust particles and aerosols from gaseous streams in the analytical registration of environmental pollution and for Soxhlet extractions requiring solvents too aggressive for cellulose thimbles. Maximum operating temperature of 500 decrees Celsius.

Quartz thimbles are used for emission testing in high temperature environments. Maximum operating temperature of 900 degrees Celsius.


---
List 5 sub categories in this group &nbspList all 21 products in this group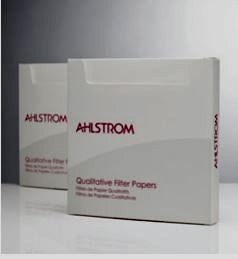 Syringe filters for convenient filtration of small sample sizes through membranes. Cellulose acetate membranes are hydrophilic membranes that offer excellent flow rates. They are low protein-binding and provide superior chemical resistance to alcohols and oils. They are best used at a pH of 4-8 and an operating temperature below 180 degrees Celsius.


---
List 8 sub categories in this group &nbspList all 82 products in this group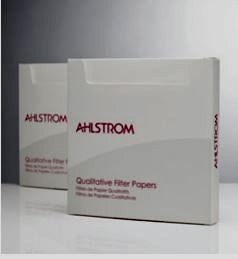 Ahlstrom Grade 222 is a 100% cotton medium thick chromatography paper with a smooth and uniform texture. It offers extremely high flow and is recommended for both electrophoresis of large molecules and as a blotter to complete the blotting sandwich in gel transfer applications. Thickness: 0.83 mm. Absorption speed: 220 mm / 30 min.

Ahlstrom manufactures a complete line of high quality chromatography electrophoresis and blotting papers for use in gel transfer applications and chromatography techniques. These uniform smooth white sheets are the high purity high quality and high value standard. They are used in nucleic acid research such as Southern Northern and Western blots electroblotting and electrophoresis. Ahlstrom chromatography electrophoresis and blotting papers are made from high purity and 100% FDA compliant alpha cotton cellulose using ultra-pure RO water and contain no additives that could cause increased backgrounds or other interference in detection systems.


---
List 9 sub categories in this group &nbspList all 120 products in this group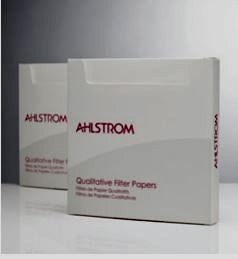 Ahlstrom offers a full range of glass microfiber filters manufactured from 100% pure borosilicate glass. Because of their intrinsic properties glass microfiber filters have wide applications in many areas of laboratory analysis especially when fine filtration and high loading capacity is required. Applications for Ahlstrom glass microfiber filters include environmental analysis for water wastewater testing of soils air pollution and monitoring research and process biochemistry and gravimetric analysis involving ignition of samples. Ahlstrom glass microfiber filters are also found in the filtration of hot gases and liquids and in pre-filtration.


---
List 2 sub categories in this group &nbspList all 313 products in this group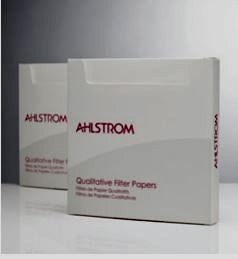 Ahlstrom's qualitative grades of filter paper are by definition recommended for use in analytical methods which determine or identify particulate constituents of a mixture irrespective of the amount present. Qualitative filter papers are often used in routine separation work that still requires high purity and consistent performance.

Ahlstrom offers a complete range of low ash filter papers for general laboratory work that provides you with the correct combination of particle retention filtration speed loading capacity and wet-strength. All our qualitative grades consist of > 95% super refined α-cellulose and linter fibers.


---
List 2 sub categories in this group &nbspList all 85 products in this group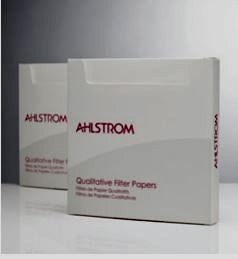 Ahlstrom manufactures a series of extremely high purity acid washed filter papers designed for use in analytical and gravimetric analysis. The quantitative grades are manufactured from top quality cotton linters using ultra-pure reverse-osmosis water and are further treated with dilute acid to remove any remaining organic and inorganic impurities. All quantitative grades are manufactured in a strictly controlled environment that ensures high uniformity and high purity from filter to filter.


---
Ahlstrom Micro Filtration Membranes
List all 5 products in this group



Cellulose acetate Nylon. Grided and other membranes are available. These membranes that offer excellent flow rates. They are low protein-binding and provide superior chemical resistance to alcohols and oils. They can be used at a wide ranging pH and an operating temperature below 180 degrees Celsius.



---

Ahlstrom Micro-Quartz Fiber Filters

List all 2 products in this group



Ahlstrom's micro-quartz filters are useful for testing hot "stack" gases as the quartz fibers can withstand temperatures up to 900°C. In addition micro-quartz is used when the highest purity media is required. With excellent filtration properties and minimal traces of metals and minerals quartz fibers are dimensionally stable and can be used in the analysis of acidic gases (with the exception of HF). Other sizes available for special order. T293 also available for special order.



---

List the sub category in this group &nbspList all 49 products in this group



Ahlstrom offers specialty products for the scientific industry. Many products were designed alongside the researchers doing test development in order to provide the necessary performance characteristics.

Ahlstrom manufactures high quality analytical filter papers for use in specialty end use applications. These custom designed qualitative grades are manufactured from top quality cotton linters using ultra-pure reverse-osmosis water. Ahlstrom specialty analytical filter papers include pleated and non-pleated grades and are found in applications such as seed asphalt and beer testing. All grades are manufactured in a strictly controlled environment that ensures high uniformity and high purity from filter to filter.



We Offer Over 28,000 Products








Need Help?
818-786-0600

Best New Product


Quick Twist
Reverse Osmosis System
Great for Lab Water Pretreatment
or Great Drinking Water






Got Millipore?
Click Here For Huge Savings




Shower Filters
Reduces chlorine
and other contaminents






APS Water Services Corp. 7320 Valjean Ave, Van Nuys, CA. 91406
800-460-9011 Toll Free | 818-786-0600 Local/International | 818-786-2347 Fax | Public@apswater.com


---






Images may or may not be of actual product.

* Flat Rate UPS shipping when able to ship via UPS and is in the USA excluding Hawaii and Alaska.
Larger Items may not be able to ship via UPS, in that case freight charges will be quoted seperately.

5/25/2017 at 8:26:31 PM