Need a New Laboratory Water System?
We have many to choose from. We can save you thousands on
Complete Systems and replacement filters for most brands.
---
Reverse Osmosis Basics
Reverse Osmosis (RO)

See All Our Reverse Osmosis Systems

More detailed information about Reverse Osmosis

Nature dislikes imbalance, and Reverse Osmosis takes advantage of this natural need. Osmosis is the movement of water across a semipermeable membrane from the side that is less concentrated, and more pure to the salty, more concentrated side.  This continues until either the concentration is equal, or the pressure on the concentrated side becomes strong enough to stop the flow.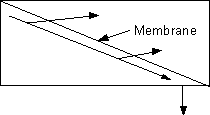 In Reverse Osmosis the process happens in reverse, due to the pressure of a high pressure pump.  The pump applies a strong pressure to the concentrated side, forcing water molecules over to the pure side, and leaving the salt, minerals and other impurities to be removed as waste. While the percentage of feedwater to pure water is large, the process is very efficient in removing contaminants.  The following chart reflects expectations: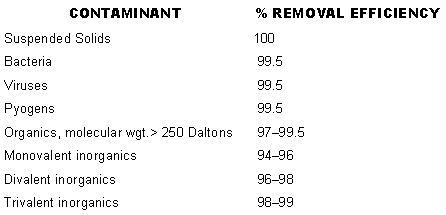 Because this process removes contaminants so efficiently, it is very cost effective for pre-purifying tap water which is then purified again before use in other technologies.  It removes a high percentage of bacteria and pyrogens, so it is often combined with the ion exchange to prolong the life of "polishing" cartridges in deionization systems.  It also provides high quality pre-purified water which is suitable as is for many routine laboratory purposes.

See All Our Reverse Osmosis Systems






Images are representative of the products. Images may or may not be of the actual product. If it is important e-mail us for an actual image if available.

* Flat Rate UPS shipping when able to ship via UPS and is in the USA excluding Hawaii and Alaska.
Larger Items may not be able to ship via UPS, in that case freight charges will be quoted seperately.
International shipping will be quoted after the order is placed. You will have the opportunity to cancel before we finalize your order.

Terms and conditions
Credit Application
Privacy Policy
Google Apps
List All Products