Need a New Laboratory Water System?
We have many to choose from. We can save you thousands on
Complete Systems and replacement filters for most brands.
---
Laboratory Water Quality Specifications
Ultrapure water is essential to every laboratory.

Laboratory water purification systems including carbon adsorption, distillation, reverse osmosis, deionization, microfiltration, ultrafiltration, ultraviolet oxidation and the combination of ultrafiltration/ultraviolet oxidation.

See :

Lab Water Purification Technologies

In addition to general preparation of reagents and washing of plastic and glassware, ultrapure water is essential in specific biotechnology applications for the preparation of media and electrophoresis gels.

In vitro fertilization, tissue and cell culture, and DNA research also require ultrapure water that is both biologically pure and free of trace metals and dissolved organics.

Ultra-sensitive analytical instruments including HPLC, GFAA, ICP/MS, IC, AAS and GC/MS are capable of detecting elements and compounds in nanograms per liter (ng/L) or parts per trillion (ppt). These instruments require water that is absolutely pure.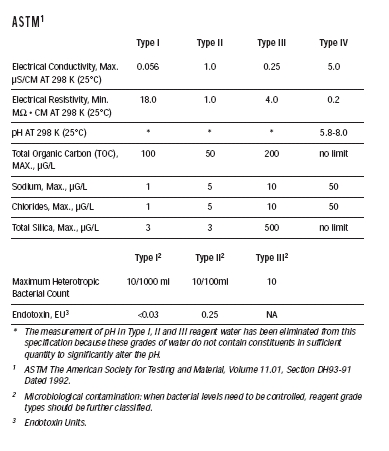 Source - Barnstead Basic Water



Images are representative of the products. Images may or may not be of the actual product. If it is important e-mail us for an actual image if available.

* Flat Rate UPS shipping when able to ship via UPS and is in the USA excluding Hawaii and Alaska.
Larger Items may not be able to ship via UPS, in that case freight charges will be quoted seperately.
International shipping will be quoted after the order is placed. You will have the opportunity to cancel before we finalize your order.

Terms and conditions
Credit Application
Privacy Policy
Google Apps
List All Products