Need a New Laboratory Water System?
We have many to choose from. We can save you thousands on
Complete Systems and replacement filters for most brands.
---
Chemilizer Injection Pump Internal Diagram
The chemilizer is a very simple but effective device. As water flow turns the upper rotary blades, the shaft turn a precise chemical injection pump. This allows for terrific duability and easy serviceability.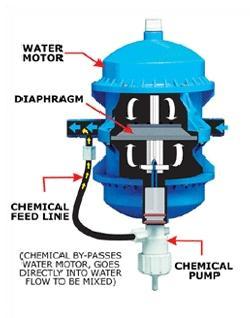 Extended Info : Chemilizer Injection Pumps


View Products : Chemilizer Injection Pumps


Images are representative of the products. Images may or may not be of the actual product. If it is important e-mail us for an actual image if available.

* Flat Rate UPS shipping when able to ship via UPS and is in the USA excluding Hawaii and Alaska.
Larger Items may not be able to ship via UPS, in that case freight charges will be quoted seperately.
International shipping will be quoted after the order is placed. You will have the opportunity to cancel before we finalize your order.

Terms and conditions
Credit Application
Privacy Policy
Google Apps
List All Products