---
Barnstead B-Pure Water Systems
List all 5 products in this group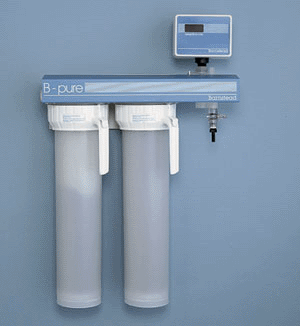 Barnstead B-Pure Water System is a 2 housing system designed to provide 3 l.p.m. of high purity water. Modular B-pure systems provide you the flexibility to design your own water system. Simply add additional filter cartridge holders as your water needs change. Systems produce up to 4 liters per minute. Use Single System as an economical stand alone system or attach more than one together using the provided hardware. Double system comes with a draw-off valve and digital temperature compensated purity meter. Max. inlet pressure: 100 psig.
---
Barnstead E-Pure Water Systems
List all 2 products in this group

Type I. Produce up to 2 qt. per min. (2L per min. of Type I reagent-grade bacteria free water. Virgin polypropylene water pathways prevent recontamination, and one quarter turn quick release canisters allow for easy cartridge replacement. Positive O ring seal on head to canister connection. Flat bottom canisters stand on bench top during cartridge servicing. With solid-state digital purity meter that displays output water resistance from 0.01 to 18.3 megohm-cm with automatic temperature compensation to 25°C - 77°F
---
Barnstead EasyPure Systems
List all 7 products in this group
** SUPER SALE - SAVE HUGE **
In this section you will find Barnstead EasyPure Systems are available in six models-

RF (Reservoir Feed) , RF/UV (Ultraviolet and Reservoir Feed) , LF (Line Feed) , UV (Ultraviolet) , UF (Ultrafiltration) and UV/UF (Ultraviolet and Ultrafilter) . All models feature a whisper-quiet pump and a standby mode which recirculates water within the system for 10 minutes during every hour of inactivity. All units except RF and RF/UV come complete with a bracket for wall mounting.

How to Select the right Easypure Model for your needs


---
Barnstead Nanopure Diamond Lab Water System
List all 8 products in this group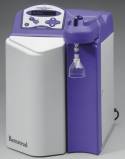 ** SUPER SALE - SAVE HUGE **
Type I. Ultrapure water system supplies Type I water with resistivity up to 18.2 megohm·cm that exceeds ASTM, CAP and NCCLS Type I water requirements. Also, complies with USP XXIII guidelines with compensated and uncompensated resistivity measurements. Multilanguage display; whisper-quiet operation.

Operating Manual For the Nanopure Diamond Systems

If you are looking for info on older Nanopure system click here.
---
Barnstead Nanopure Infinity
List all 4 products in this group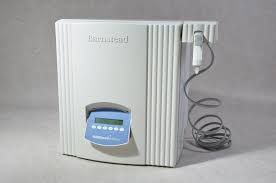 Barnstead has disconinued this system although we do still offer support, parts and replacement filters.

Produces up to 3 pt./min. (1.5L/min. of water virtually free of any contamination. System provides for adsorption, deionization, UV oxidation, and ultrafiltration. Automatic intermittent flush keeps impurities from forming on the ultrafilter surface. Water quality: pyrogen level, <0.001EU/mL; TOC, <2ppb; and bacterial level, <0CFU/mL. Water has no detectable RNase, DNase or DNA. With standard 10,000MW ultrafilter; and dual-wavelength (185 and 254nm UV lamp.

---
Barnstead Bantam
List all 2 products in this group

In this section you will find that Barnstead Bantam is a Great Portable, non pressure cartridge system for polishing pretreated water or single-stage purification of tap water. Delivers deionized water at 5 to 10 gal./hr. (19 to 38L/hr.

---
Barnstead Mega-Pure Deionizer Systems
List all 7 products in this group
In this section you will find the Barnstead Mega-Pure Model D1 deionizer. This system is used as a pretreatment system for megapure stills and can be used as a stand alone deionizer system.

The D1 Model is used for removal of dissolved Ions. The D2 Model removes both organics and ions.

If you are looking for Megapure Stills Click here

You may also be intersted in or economic Reverse Osmosis / Deionizer units for the production of deionized water.

Operating Manual


---
Thermo - Barnstead GenPure Water Purification Systems
List all 0 products in this group
---
Barnstead Water System Accessories
---
Terms and conditions
Privacy Policy


Tags : | laboratory | water | purification | equipment | barnstead/thermolyne | includes | nanopure | e-pure | easypure | diamond | laboratory | water | polisher | systems | barnstead | / |
Barnstead / Thermolyne Brand Lab Water Systems