---
Commercial and Residential Water Purification Products
Section Quick Index

List 15 sub categories in this group &nbspList all 1508 products in this group

In this section you will find all the products you need to produce and maintain purified water for residential and commercial applications. We offer water softeners, reverse osmosis systems and just about anything you would need for home or farm, commercial and industrial applications.

Technical Info
---
Lab Water Purification Products
Section Quick Index

List 12 sub categories in this group &nbspList all 928 products in this group
In this section you will find all the products you need to produce very pure water for laboratory, research, high technology and critical small scale applications. We offer replacement filters for most major brands of laboratory water purification systems as well as complete systems by Millipore, Barnstead, Labconco and Aquamax.

Technical Info
---
Laboratory Filters - Syringe Filters - Flat Stock - Extraction Thimbles
Section Quick Index

List 5 sub categories in this group &nbspList all 283 products in this group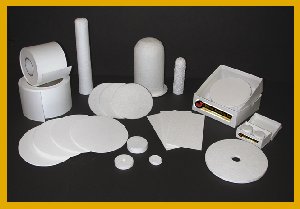 In this section you will find a wide variety of filtration products for use in the laboratory or other high tech application. This includes syringe filters, capsule filters and other high quality filtration devices for the sterilization and filtration of various liquids.
---
Water Testing Products
Section Quick Index

List 12 sub categories in this group &nbspList all 3629 products in this group

In this section you will find all of the products you need to test and measure the quality of water.

These products include conductivity/resistivity meters, hardness, Iron, bacteria, Nitrate and many other water testing kits.
---
LabConco Laboratory Products
Section Quick Index

List 3 sub categories in this group &nbspList all 1422 products in this group

Here you will find all types of laboratory equipment. This includes everything fume hoods to glassware to laboratory water systems. We carry the complete line of Labconco equipment and filter products.

We are currently building this section. All of the products are listed and the prices are accurate. Thank you for your patience while we categorize these items.

In the mean time,
View All Uncategorized LabConco Products
---
Specialty Cartridge Filters
Section Quick Index

List 19 sub categories in this group &nbspList all 142 products in this group
Specialty cartridges utilize premium ion exchange resins and specialty absorbents to remove a wide variety of contaminants. Available in the 4 most common sizes to fit standard filter housings, these specialty filters can improve the aesthetic qualities of water and remove harmful contaminants.

We apply technology and knowledge of ion exchange and specialty adsorbents in each cartridge. Our strict quality control over all aspects of cartridge production allows complete traceability of every filter.

Filters for the removal of :
Perchlorate, Chlorine, Precious Metal recovery, Nitrate removal, Hydrogen Sulfide, Heavy Metals, Chrome and many others